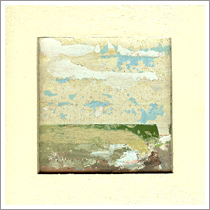 Marqueterie – restoration series No. 103(i)..2006
view larger image copyright of all images belongs to the artist
Dick Whall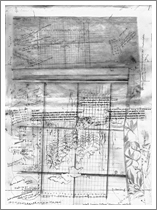 Whelk Coppers No. 1..2007
digitally generated intaglio print, Edition of 5
b. Norfolk 1939, attended Norwich School of Art and the Royal Academy Schools, London in the early 1960's. A retired Head of Fine Art at Coventry University and visiting Professor of Fine Art in the USA, Dick has exhibited widely in the UK and internationally for five decades, with works in many private and public collections.

During a residency on the North Norfolk coast (1996 to 2007) he responded to a 'sense of place' by assembling and composing flat images from 'ready-painted' jetsum: building materials brought down to the coast by the inshore drift.

In the latter stages of his residency Dick carefully restored the sea-damage inflicted upon the found driftwood in his compositions, by preparing a Jesso ground and employing oil pigments.

A rural residency at Gresham Norfolk since Spring 2007, has led to a series of garden/ landscape drawings and prints, where cyclically these 'throw-back' to work made in the early '60s at Lawn Farm, near Kelling/Cley in North Norfolk while on a David Murray Scholarship from the Royal Academy.