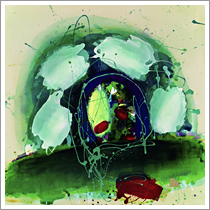 "beyond the hawthorn blossom and pasture scene,
The broad backed figure drest in blue and green,
Enchanted the maytime with an antique flute"
T S Eliot (oil and mixed media on canvas)
view larger image copyright of all images belongs to the artist
Zheni Warner


(b.1954 Bulgaria) Zheni came to England in her early 20s and studied Fine Art Painting at Norwich School of Art. She exhibited continuously at Elm Hill Contemporary Art in Norwich 1998-2005.
From the late 1990s Zheni's paintings were inspired by poetry: the sweeping imagery and haunting visions of Dante's Divine Comedy; Seamus Heaney's translation of 'Beowulf' and more recently by poems of John Keats, T S Eliot, Byron and W B Yeats.

Her painting is not a literal interpretation but a general response to the poem as a whole.
The works are mixed media on canvas and on board, and her richly coloured and glazed surfaces have been described by a French critic as having "...the colours of Rubens and the rhythms of Bartok". For others they are 'a concerto in colour' and 'deliquescent jewels'.